The Myth: What was thought to be your typically charming halloween decoration depicting a lynched woman hanging from a tree, turns out to be a genuine suicide.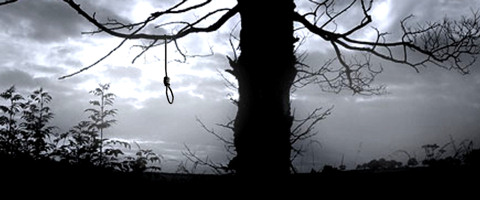 The Truth
Edit
In the town of Frederica, Delaware, a 42-year-old woman, perhaps distraught by the fact that she lived in Delaware, hung herself from a tree near a busy road on a Tuesday night. The body managed to hang there until the next day and was viewed by many unwitting (or perhaps retarded) spectators beforesombody realized it wasn't a decoration and called the police.
Once again it's the lack of complaints from passers-by that amaze us. Even if the hanging thing wasn't a body, it was something that looked exactly like one and would be considered an extremely distasteful Halloween decoration (unless she put on a wacky witch's costume before doing the deed).
With the political correctness these days, you'd have expected two special city council meetings and 30 letters to the editor within the first ten minutes of someone seeing it.
We can't help but wonder, if the person who eventually called the police hadn't bothered, how much longer would the body have hung there? This happened five days before Halloween. Add five days of decomposition to the equation and suddenly you have something a whole lot more terrifying.
Also, did the woman plan this? She knew what time of year it was, and intentionally hung herself in a public place. Did she want her corpse to blend in with the bed sheet  and stuffed witches around the neighborhood? If so, it sounds like she may have been a fascinating person ghost. A Halloween Stunt Goes Wrong in the Least Surprising Way